Who doesn't love watching cartoons in the morning during their childhood days right? Well I was reminded after babysitting for my nephew where I get to watch cartoons again in a daily basis. It was a new thing for me since I 'm not aware of the new cartoon characters nowadays. Which brings me back to the days when I was a kid and listing out all the time slot of the cartoon shows that I really like to watch. So for all the kids from the 90's, I know you'll love this one.
An arcade game published and developed by Nintendo in 1983. It was developed by Shigeru Miyamoto. It has been commonly featured as a minigame in the Super Mario Advance series and other games. Mario Bros. has been re-released for the Wii's Virtual Console service in Japan, North America, Europe and Australia.
In this game, Mario is portrayed as an Italian-American plumber who, along with his brother Luigi, has to defeat creatures that have been coming from the sewers below New York. The gameplay focuses on Mario's extermination of pests in the sewers by flipping them on their backs and kicking them away. The original versions of Mario Bros., the arcade version and the Nintendo Famicom/Nintendo Entertainment System (NES) version, were received positively.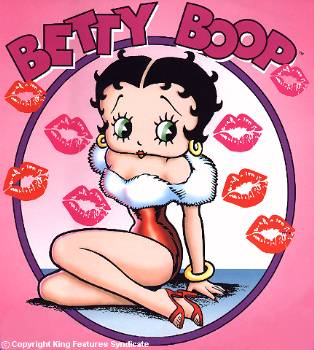 Betty Boop is an animated cartoon character created by Max Fleischer, with help from animators including Grim Natwick.[She originally appeared in the Talkartoon and Betty Boop film series, which were produced by Fleischer Studios and released by Paramount Pictures. She has also been featured in comic strips and mass merchandising. Despite having been toned down in the mid-1930s to appear more demure, she became one of the most well-known and popular cartoon characters in the world.



Keroppi
Keroppi loves adventure, and his bubbly personality makes him popular around Donut Pond. He has a brother called Koroppi and a sister called Pikki. Keroppi is a fantastic swimmer and singer (but not at the same time!).
Popeye
Popeye the Sailor is a cartoon fictional character created by Elzie Crisler Segar, who has appeared in comic strips and animated cartoons in the cinema as well as on television. He first appeared in the daily King Features comic strip Thimble Theatre on January 17, 1929. Popeye also became the strip's title in later years.
Although Segar's Thimble Theatre strip was in its tenth year when Popeye made his debut in 1929, the sailor quickly became the main focus of the strip and Thimble Theatre became one of King Features' most popular properties during the 1930s. Thimble Theatre was continued after Segar's death in 1938 by several writers and artists, most notably Segar's assistant Bud Sagendorf. The strip, now titled Popeye, continues to appear in first-run installments in its Sunday edition, written and drawn by Hy Eisman. The daily strips are reprints of old Sagendorf stories.
In 1933, Max and Dave Fleischer's Fleischer Studios adapted the Thimble Theatre characters into a series of Popeye the Sailor theatrical cartoon shorts for Paramount Pictures. These cartoons proved to be among the most popular of the 1930s, and the Fleischers—and later Paramount's own Famous Studios—continued production through 1957. The cartoons are now owned by Turner Entertainment, a subsidiary of Time Warner, and distributed by sister company Warner Bros. Entertainment.
Over the years, Popeye has also appeared in comic books, television cartoons, arcade and video games, hundreds of advertisements and peripheral products, and a 1980 live-action film directed by Robert Altman starring comedian Robin Williams as Popeye.
Source
Hello Kitty
A cheerful and happy girl with a heart of gold. Kitty can bake delicious cookies, but she loves Mama's Apple pie even more. Her bestfriend is her twin sister Mimmy. They are part of the Sanrio world family from Japan.
Real Name: Kitty White
Birthday : November, 1st